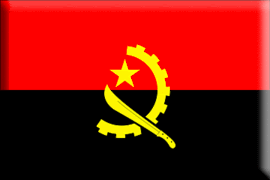 The Portuguese generally take a lot of pride in the fact that Brazil, a country they discovered, has become one of the most vibrant and varied countries on earth and a true cultural superpower. That diversity, of course, came into being largely because of the slave trade. But slavery is a word seldom mentioned in discussions of Portugal's glorious age of expansion and empire.
A current exhibition in the museum in Lagos makes a laudable attempt to promote Portugal's own multicultural heritage, talking at length about how successive migrations of humanity have culturally enriched European societies and made them much more ethnically diverse, but fails to mention how forced migrations of people created economic riches, or even the remarkable fact that Lagos itself would give its name to the capital of Africa's most populous nation, as many of the slaves traded in the Algarve originated in that part of Africa.
Portugal first arrived in what would become its largest African colony, Angola, in 1483, and they would stay there for almost 500 years. Like any colonial relationship it was one of brutality and forced obedience:
Until the late 1900's Portugal used the area as a "slave pool" for its far more lucrative colony in Brazil and to benefit from the occasional discovery of precious gemstones and metals. Angola suffered from one of the most backward forms of colonialist rule.
(from
www.africanet.com
)
According to an article by Helena Matos in
Público
, it always held a special significance for the Portuguese:
(There is a) word which, in Portugal, throughout the entire twentieth century was murmured in times of crisis and in the inevitable periods of euphoria that followed. That word is Angola.
(
Collapse
)